A Kuwaiti participant in the Davos simulation asked, afterwards, what she could do, personally, to help.
We linked her with an NGO in Lebanon: Unite Lebanon Youth Project. ULYP "works with capable students from secondary schools in Lebanon to prepare them for success. We have seen the students' personal success in their education and careers spill over to their families and communities. At ULYP, quality secondary and college education is key to sustained personal and professional success and to inspiring positive change within communities." Their Bridge programme can be seen here.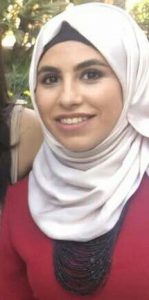 Through ULYP, the donor was able to provide funding for Alaa El Akkawi, a young refugee woman who longed to study medicine.
Following is a letter she wrote to her donor (who prefers to remain anonymous.)
Thanks to you, I am now a third year Medical student at AUB. I have been a member of the Unite Lebanon Youth Project family for six years now.
Although my case may sound like any other student who was offered a scholarship by ULYP through generous donors as yourself, I feel I am so blessed because I am one of few students who was able to continue their graduate studies in medicine after graduating with a BS from faculty of Arts and Sciences.
Even though I was 100% sure that I won't be able to become a doctor simply because I knew I couldn't meet the financial requirements for medical school, ULYP's staff worked day and night to prevent our hopes from vanishing. They made their best to contact every donor they know just to make my dream come true, until they found one, after long days of search. For this and many other things, I would like to thank you from my heart for all the help you are offering me. You made me believe that sometimes, impossible dreams do come true if people like you are still willing to support hardworking students. To you, I may be like any other student you are helping, but for me you are the person who made my dream become a reality.
Words will never be enough to thank you , so I would like to promise you that one day , when I become financially capable , I will not hesitate to support others like you did, hoping that a student can reach his/her goals easily in this difficult world we live in.
Best regards,
Alaa El Akkawi