World Vision head, Kevin Jenkins, said of the refugee simulation, "I've had the privilege of meeting refugees in many countries around the world and wondered how best to bring their stories to life for others. This simulation is like being there. It's the most powerful way I've seen to enter into the world of a refugee, empathise with their suffering and renew commitment to bring hope."
The President and Chief Executive Officer shared a recent account from his visit to Bidi Bidi, currently the largest refugee camp in the world.
When I visited the Bidi Bidi settlement for South Sudanese refugees in northern Uganda, it had swollen in a few months from nothing to become the world's largest refugee camp. Our staff were charged with assessing all the children crossing the border who might be especially vulnerable, including the 100 a day who were arriving with no adults they knew.
I took part in the assessments and registration, and was amazed at the willingness of families to take in unaccompanied children while we sought out any surviving relatives. It was a joy to see various agencies working together well and the government taking a strong lead. But that doesn't mask the horror that these children have fled from, and the harrowing stories each individual recounted.
A highlight for me was meeting 16-year-old Lina, who was part of a project World Vision ran with Apartial, a street-artist's collective. Lina fled Juba barefoot after finding her father's bedroom ransacked and his body hanging from the rafters.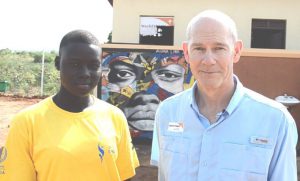 Since then, she had been living alone. She told me she hadn't made a single friend until the artists arrived and got the children all working together. Inspired by Sandra Chevrier's 'Fragile Heroes', Lina created a wall-sized self-portrait. A close up photograph of Lina's face was projected on the wall, and she drew an outline. Under Apartial artists' guidance, she painted female superheroes over the top.
"I like the picture so much," she told me. "When I was working on it, I was feeling so joyful. For the first time, I couldn't think of the past."
It was moving to see how much healing Lina has experienced through the apparently simple act of painting her dramatic image. We are learning lessons like this through our Child Friendly Spaces around the world all the time.
More stories like this, here
Below: Kevin Jenkins, President and CEO, World Vision, speaks with former child soldier David Livingstone at A Day in the Life of a Refugee, Davos 2016.