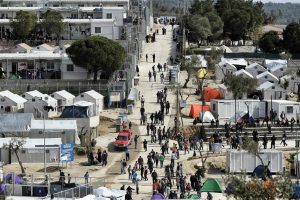 The BBC, quoting Medecins Sans Frontieres, has called it 'The worst refugee camp on earth'. A camp on Lesvos Island, Greece, designed to hold just over 2,200 people, is currently housing up to 10,000 at a time. More refugees keep coming across from Turkey, eager to begin life anew in the EU, but find themselves in desperate circumstances without adequate care, water, food, shelter, medical support or education. Worst of all, their future, in today's political world, remains unknown. Many recognise that they may be sent back to their home countries for torture or execution. Many have no idea where their families are or how to find them. Many have experienced abuse, have witnessed torture and murder, leaving them battling PTSD, panic attacks and a longing for suicide.
Tensions are high in camps such as this and, with heart breaking regularity, overflow into violence and abuse. These patterns are worst, at night, under cover of darkness, as the camp has virtually no electric power.
Following 'A Day in the Life of a Refugee', participants from D.light asked us if they could support refugee need by providing solar lights. Our colleagues working on Lesvos Island thought this a strategic help since, being portable lights, they could serve as protection for people needing to move around the camp at night. Throughout 2018, we were therefore fundraising to see that goal realised.
The funds are now in and, shortly, 5,000 lights will be put into the hands of these refugees.
Solar company, D.light, is providing the lamps in response to its leadership's participation, Ned Tozan and his wife Dorcas, in 'A Day in the Life of a Refugee'. They also worked hard to support the fundraising.
A recently published article from Fast Company, also supporting solar light needs in various parts of the world, likewise underlines the importance of solar lamps in refugee camps, saying:
"On average in the past year, there was a 20% decrease in rape and sexual assault in camps since predators traditionally depend on darkness to execute their attacks. With light, they can be identified."