Computer centre: Empowering minors
Microsoft, a frequent participant in our simulations and partner in global citizenship initiatives, inspires us by the way they use what they're best at to empower those who have the least.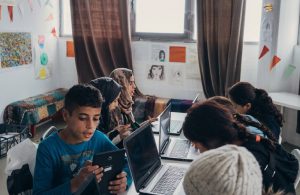 In 2017, a Microsoft team, on its own time and money, travelled to Greece where they joined our partner NGO, Emergency Relief Centre International, with technology support for refugees.
One of the lesser told horrors in the refugee landscape is the reality of unaccompanied minors, young teenagers without parents. Their vulnerability is painful. With no family to care for them, they can end up living on the streets selling the only assets they have: their bodies or, in some cases, drugs.
Microsoft is a regular with our simulations and have partnered with Crossroads on global citizenship initiatives since 2010. Working together, their team took strategic action on behalf of these young people at risk.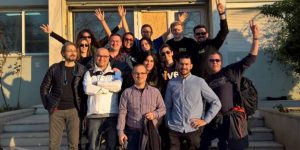 They travelled to Greece from points across the globe specifically to help the refugees there who had taken the perilous journey up through Turkey and across the waters to seek asylum there. The Microsoft team brought hardware, software and people to set up a computer lab for these young people, giving them a safe place to be and a location in which they could learn skills that will stand them in good stead, going forward with their lives, wherever that journey takes them.
The Microsoft team also set up tablets in one of the Greek refugee camps for camp residents to use and learn on. At this time, the UNHCR says that more than 50% of refugee children are not receiving education. If their time in the camps does not see that rectified (and the average length of time for refugees in camps is 17 years) these children may grow up uneducated: a 'lost generation'. The team also worked with camp administrators to improve their IT capabilities – upgrading office tools to O365, installing an educational computer system for classroom use, enabling a barcode system for camp-wide inventory of donated supplies.
Classroom support: Mission Impossible
From their blog:
On the tech side, we introduced key camp staff to Office 365 via donated subscriptions and helped them implement a bar code system for sorting and organizing storage items. A team of four Microsoft volunteers splits off to set up a system which loads training content onto a dozen student computers. What they thought would be straightforward quickly became 'Mission Impossible.' The computers had no internet connectivity, there was no documentation to guide the team, device platforms ranged from Android to Linux to Windows 10, and everything had to be done in the few hours on site. Many of the operating systems were changed to Arabic, and all devices were password locked by children no longer at the camp.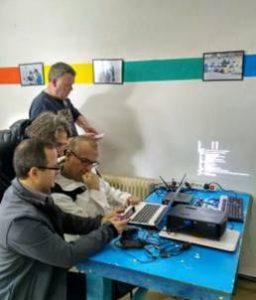 There was only one solution left. Creativity and teamwork prevails! The team successfully set up a virtual classroom, created instructions for camp volunteers and trained one of the teachers to act as administrator. The devices, practically unusable before, were reset with both teacher and student logins to avoid similar lockouts in the future. The now usable tablets are now available for children who lost their houses, friends, toys, and relatives, but not their hope to live a better life, play, learn and smile.
Do you have a story to share about your experience at A Day in the Life of a Refugee, or how it influenced you to take action? We'd love to hear from you at refugee@crossroads.org.hk