"This simulation should be a mandatory price of admission for all who come to Davos," wrote Neal Keny-Guyer, CEO Mercy Corps USA.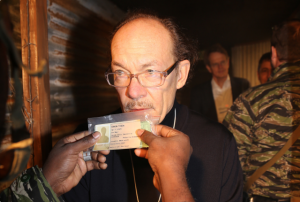 Neal (pictured right) is one who knows the refugee challenge, first hand. He not only manages Mercy Corps' global operations, but is, himself, frequently in the field as well. In the photo, below, he meets with South Sudanese who had been displaced from their homes and visits Mercy Corps' work supporting 80,000 children through school feeding and education activities. The organisation has sounded the alarm time and time again about innocent people starving to death in South Sudan. The South Sudanese people are now left with two options: rely on humanitarian support or flee their country.
Neal, interviewed in January 2108, said:
"The big force that's laying the foundation for many of the crises we see today is conflict. As the World Bank has said, conflict is the number one driver of extreme poverty in the world. Extreme poverty is clustering in fragile environments that are all plagued by conflict. Twenty million people are at risk of famine because of conflict. And if we can't do a better job as a global community of coming together and addressing the root causes and historical grievances beneath it, we're going to have a hard time making the progress we all want to see.
"There's no algorithm we could write that would magically reduce conflict. But in each case there are often historical grievances that underlie many of these conflicts, and we have to address them. At Mercy Corps we take great pride in the fact that we focus on the root causes. We've seen time and time again that you can bring people together from different tribes, religious backgrounds and sects, and if you can engage the leaders — and particularly the women and young people — then you can make progress.
"What you can't do is put your head in the sand and believe these problems are magically going to go away."
Read the full, inspirational interview, as reported by Relief Web, here.
See example of refugees whom Neal and Mercy Corps help here.