One of the untold stories is the ongoing cost of Haiti's suffering. It's years since the disastrous earthquake saw 3 million lives affected and over 100,000 killed. The world has, largely, long since turned away though the pain continues, in untold ways, for those on the ground.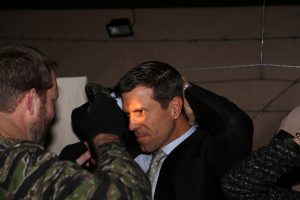 Unilever is one who helped. Pier Luigi Sigismondi attended the refugee simulation we took to Davos at the time (pictured left) when he was their Chief Supply Chain Officer. Afterwards, he spoke with our team, discussing ways they could see Unilever product help people in dire need.
As a result, Unilever sent 26 containers of product to support sanitation need in Haiti: a massive donation.
In addition, Pier Luigi invited our team to London where they undertook a simulation on poverty with 90 of Unilever's supply chain heads, from around the world. This creative company explored ways to see their supply chain benefit up to 500,000 grassroots farmers from whom they sourced product.
It is another example of a company doing what they do best to help those who need it most.